Ready for an adventure?
Volunteer and inspire a generation.
Every year volunteers from around the world join the team at Gilwell Park to support young people to experience adventure. We are now able to accept applications to join the programme from EU and USA citizens who have had both covid vaccinations. Placements begin on 30th August 2021 and last until at least Christmas with the potential to stay longer.
There are only a limited number of places available. You'll get a full training programme in how to instruct activities and work with young people as well as being provided with uniform, food, accommodation, out of pocket expenses and an amazing experience seeing young people develop. Most important though you'll make lifelong friends and develop some amazing skills that will look great on your CV or university/job application.
"While working at Scout Centre Buitenzorg in July of 2017, I was responsible for hosting the current campers and completing daily tasks around the camp. I learned that it is a very different environment than what you would see in America. The groups of campers are much more independent and mostly use activities they brought for themselves with the exception of a few activities that the camp provides, like archery and clog painting.

As workers, we just make sure the camp is accommodating to the campers needs, as well as perform general cleaning and activity setup/takedown. The other workers are very hospitable and walk you trough everything you would need to know. I would definitely recommend this camp. It was a fun and exciting experience."

Marc (USA), Scout Centre Buitenzorg (Netherlands), 2017
How is Vässarö? I can tell you a little about my experience but If you really want to know, you'll have to go there.

We (my girlfriend and I) had summer holiday from school and we wanted spent that time together somewhere abroad. We picked Vässarö because of accessibility (you can be volunteer even if you are not 18) and locality. And we do not regret!

The whole experience from Vässarö could be summed up in one word ….. Amazing! We got to spend one month on gorgeous island with many interesting people and nice countryside. We learnt how to drive tractors, bake delicious cookies, who trappers were and how proper Fika should look like.

In my opinion there is no better way how to spend your holiday then volunteering in any Scout centre. I worked in 2 scout centers (Vässarö and KISC) and I'd recommend it to everybody who wants to meet people with similar values and want to have some fun too.

Richard (Slovak Republic), Vässarö, 2018
"I'm taking a big deep breath as I start to write this; it's much needed after 3 of the most diverse and captivating months I have just spent at KISC. How do I even begin to describe the experiences that I have had? The craziness, the laughter, the abundance of emotions, the adventure, the pure adrenaline, the friendship, service to others and, of course, scouting. It is not just one but all of these things and more that make life at KISC truly rewarding and memorable. Whether you visit for a handful of days, stay for two weeks, or indeed volunteer here for months, maybe even years; I can wholeheartedly say that this place becomes more than just a scout centre located in a pretty hiking village in the alps – it becomes home.

Being immersed in all things scouting is one of the nicest possible ways to spend your time, and life at KISC, the 'permanent mini jamboree', certainly achieves this immersive experience. As a volunteer here I've been given opportunities that my 'regular' life just doesn't offer; I've climbed mountains, cleaned toilets, 'recycled the dream', fixed things, made friendships and memories to last a lifetime and have equipped myself with so many life skills that will help me to be the responsible, active citizen that as scouts we should all strive to be. Being at KISC is empowering; nowhere else will you find yourself in an environment so inviting and encouraging.

I have been the truest version of myself while here and have been welcomed with open arms into a whole world of scouting and possibilities I think we sometimes fear to dream of. If KISC has taught me anything (and it has taught me plenty), it is that we should never fear to dream. What's more – never fear to be yourself, or to go the extra mile, to test your limits, to do the things that make you happy and never, ever, be afraid to smile. Waking up at KISC every day surrounded by opportunities, friendship and scouting has meant that all of these things have become second-nature to me; I have learned to do more than just exist."

Saoirse (Ireland), Kandersteg International Scout Center – KISC (Switzerland), 2018
"Honestly, I would not change that summer. I was there whole month and i dont regret, it was necessary to be in Zellhof so long to understand its life and rules. I learned a lot and met awesome inspirational energetic people. Remember: The more you put in the more you take, and even more – I tried everything but night inspection, because it is not easy to say german group to be quite when you dont even speak english so good. You will cook and clean but also sing and laugh a lot. And beautiful lakes, forests and towns wont let you sit in camp for sure. For me, Zellhof means freedom."

Alzbeta (Slovak Republic), Zellhof Centre (Austria), 2019
I voluntered at the Vässarö Scout Center in Summer 2019 for about 20 days. And what I can say: it was the best decision! On the one hand, there is this beautiful swedish island where you got to live. I stayed in a cozy small hut with the other two Internationals. The rest of the stuff was swedish, but the visitor groups where from all over Europe. So you see, on the other hand, it's a place full of scouts, so it must be great!
I worked in the program team, so i leaded trapper trails for the visitor groups, did some handcrafting workshops with them and climbing and fixed, cleaned and sorted all different sorts of our material. The days where full of work, but if you have a great team that doesn't matter right?! The best thing was, that everybody spoke perfectly english, so I never felt as an outsider and the communication worked really well. Of course there was a lot to talk about: how is scouting here in sweden, what's your scout-biography, … And the good side effect: I improved my english!
I learned how important it is to listen to my body and to divide my forces. Normaly we went to bed relatively early, because of the long days, but I always had the feeling that I did something useful and had a great day. We also used our free time very well and played games, went to the sauna, made a campfire, went sailing or canoeing. And my time at Vässaro confirmed to me again: as a scout you have friends all over the world, even if you haven't met them yet. So my conclusion is: go out there and voluntear at a Scout Camp! It's worth the work!

Amelie (Germany), Vässarö Scout Centre (Sweden), 2019
"I had an amazing summer volunteering at Kandersteg International Scout Centre under the ESVP. I learnt so much, both about myself and all of the other cultures that surrounded me each day. I also gained professional and practical skills and made friends for life, from all over the world. I would definitely recommend anyone thinking about it to apply, it was such a worthwhile experience!"

Lucy (United Kingdom), Kandersteg International Scout Centre – KISC (Switzerland), 2019
Serving as part of the European Camp Staff Program was one of the greatest experiences I have had in Scouting. It marked the first time this scout from Texas ever ventured to Europe and I quickly fell in love with the beauty and people in Bavaria. I learned quickly that the Scouting program makes it easy to make friends across the world. Meeting new people with similar values and different experiences who come together over a few weeks and become a family. I believe camp staff creates some of the best problem solving skills, and the opportunity to be a part of it on another continent is once in a lifetime. To any scout who is interested in getting involved, take the leap and enjoy every moment of it.

Danny (USA), Bucher Berg (Germany), 2016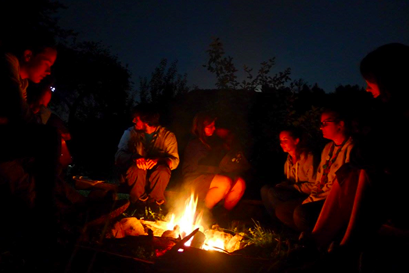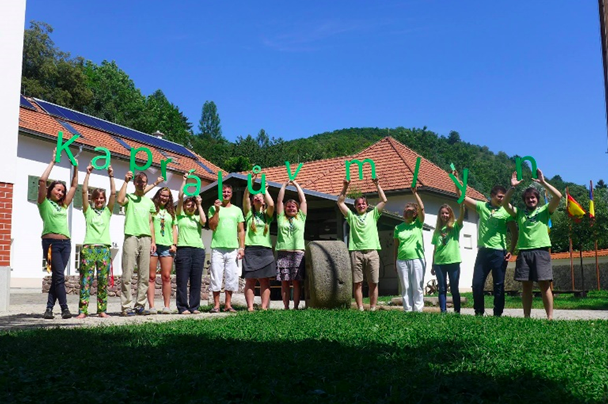 I was 18 years old, it was the first time I was travelling alone. I was going to a scout centre in The Netherlands! I was nervous and scared, but in the moment the scout leader picked me up in the airport I felt at home. Then, she explained me everything, showed me the place and introduced me to the volunteering team. They were so nice.

The month I was there I met very interesting people from many different parts of Europe. It is amazing how similar we in fact are. I learnt about the culture, the language, the people, the customs… And for me that is a real trip.

That experience makes me more open-minded and independent. That has shown me that I can do whatever I want in life. Now every summer I try to go somewhere where I can do voluntary work and know different realities and learnt from them.

Now, I can only encourage you, don't be afraid, and create your own experience. Make an ESVP.

Soraya (Spain), Kapráluv Mlyn (Netherlands), 2016 & Buitenzorg (Netherlands), 2017.